Christian has written several books on marketing & strategy
Writing books does not only take time but it also requires a good topic that is at the time of writing in alignment with the author. Hence, a book should always be targeted at a particular audience. Christians books have been published in English and German. Some of the books focus on an industry (e.g. aviation, data recovery, manufacturing), or technology (Edge Computing, IoT, Crypto Currency) or business strategies (Marketing, Sales, Leadership, Entrepreneurship).
Some of his books benefit from either his personal work experience or the insights he gained when advising clients. It does not matter if the person is a founder or a hired CEO of a DAX/FT100. The core fundamentals of leadership are often accompanied by the problem that some issues a leader can not discuss with his subordinates. Hence, he/she need a place to bounce off thoughts.
Mindfeeding is an important part of a leaders daily schedule. A MBA, Wealth or rank in an organisation can not be used as excuse for not aspiring to continuously educating oneself. A true leader motivates also other of any rank to also take time to read content that helps you improve your own human being.
Following list contains books published in English or German: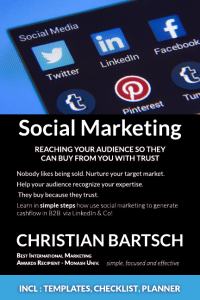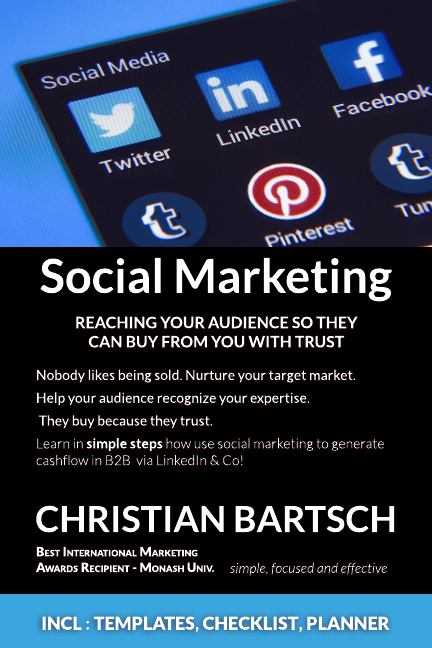 Social Marketing beyond 2022
Many businesses struggle with the need to switch to social selling and marketing. A variety of people promote the use of bots and other unsustanable strategies that will damage the brand of those who follow this ill path.
Having seen what is possible in the B2B sector Christian is going to show you in simple steps how to get proper results without becoming a spammer. You do not need to sell. You need to market what your audience … wants to buy as you are the authority in your industry niche.
Nobody likes being sold. Nurture your target market.  Become the authority in your industry niche. Your audience wants to buy from you after recognizing your profound expertise and having the trust you can deliver on your word.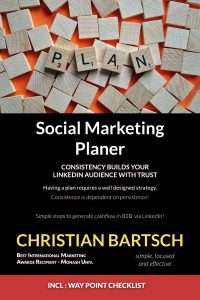 Deliver Content to your LinkedIn Network with Consistency
This Content planer helps you schedule and promote your marketing message in places like LinkedIn with greater efficiency. Being persistent in social marketing requires purpose and consistency.
A network of connections will not be created over night. Do not fall for the trap of being average. Be obsessed in creating and sharing the greatest value you have to offer to your audience.
Most people fail in their channel marketing as they try to be everywhere and eventually they go offline for ever. It is all about having the right sequence and persistence.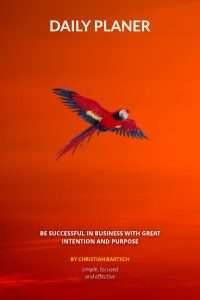 Be successful in business with Great Intention and Purpose
This time planer is intended to help entrepreneurs and business leaders be more intentional in the use of their time. Time is a limited commodity people often neglect.
Other titles you might like
You might like other titles that Christian has published recently. So have a look at following series: